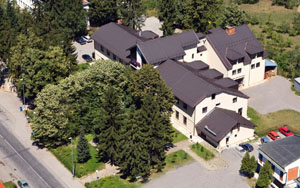 Welcome to hotel "Komovi". For more than fifty years this reputable hotel offers high quality services and hospitality. Since it is located in a small town in the Lim valley, surrounded by mountains Komovi, Bjelasica and Prokletije, it has ideal location for mountaineers and lovers of recreation in nature. This town hotel with mountain style architecture is categorized with three stars. Within the building you will find restaurant hall with fireplace, adaptable conference hall, aperitif bar, café, room for business meetings etc. Hotel has a safe, own parking, outside recreation area and tennis court. Our business is based on the development of mountaineering, sport, seminar, mountain, rafting, hunting and fishing tourism.
The total accommodation capacity is 100 beds, arranged in 42 rooms and 1 suite. The rooms are single double or tripple, with single or double beds.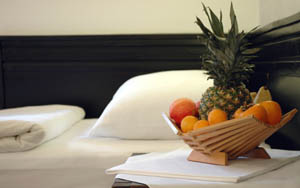 Most rooms have a view on the beautiful nature that surrounds us. There is a phone and Sat TV set in each room. Hygiene is our top priority, and it gets most attention. Bathrooms are equiped wit shower cabins, hair dryer and toiletries.
Large capacity restaurant (200 seats) is a place where you can enjoy modern and traditional cuisine. We suggest traditional specialities made from quality homegrown organic food. Café and summer garden under the linden trees is something that you should not miss. Garden and indoor premises are covered with free WiFi signal. Just in front of the hotel there is a praking where you will have no trouble finding free space. All your valuables can be left in the hotel safe. Guests that like recreation are able to use the sports complex.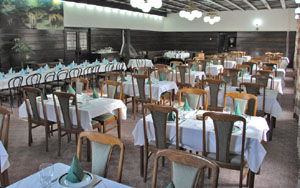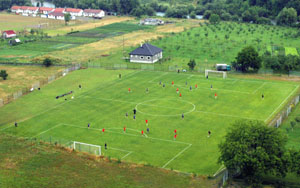 HK sport complex is primarily intended for preparation of professional sportsman, but is also available for regular guests. It is only 500m away from the hotel, and there you will find football stadium with natural grass, auxiliary stadium, tennis court and gym. It is located just 780m above sea level with an excellent climate and is therefore very suitable for sports training.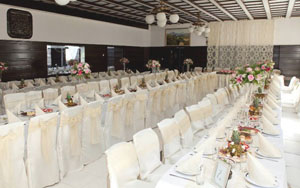 Over time, our staff specialized in providing various kinds of services. In arrangement with you we can organize seminars, conferences, workshops, weddings, celebrations and other gatherings. We rent bikes, so you are able to plan your routes with "your guide" on our website, and visit these attractive locations. Also we are able to provided a mountain guide for individual or group needs. In cooperation with tourist agencies we organize excursions.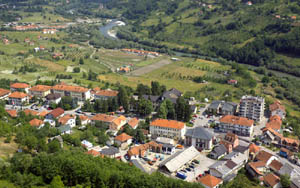 Andrijevica a relatively small settlement located on the north - eastern part of Montenegro, beside the River Lim. It is situated at the foothill of mountain Kom, and is surrounded by mountain Bjelasica and Prokletije who are all known for many beautiful natural resources such as hiking trails, mountain peaks, rivers, lakes, forests and many other natural resources. Traces of material culture suggest that the surroundings of Andrijevica has been inhabited since Neolithic times. The rich cultural history did not bypass this place, and many conquerors who each in their own way wrote history. One thing is certain, that Andrijevica was once one of the main crossroads and cultural centers of the northern region. This urban monument is located on a terrace about 50 meters above the river Lim, and 780 meters above sea level, where the confluent Zlorečica joins into the river Lim. This region is a paradise for lovers of relaxation and recreation in nature.
Mountain Komovi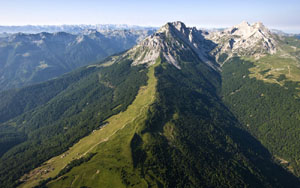 Komovi are certainly one of the most beautiful mountains in the region. Surrounded by Lim river from the east, Tara river from the west, and Prokletije from the south, it fascinates with the diversity of natural beauty. It is suitable for biking and hiking. It is only about 16km away from the hotel, which requires 25 minutes car drive. With average car you can get all the way to the footer of Komovi. From there even kids and older people are able to surmount a moderaty difficulty trail that leads to the summit (2460m) of Vasojevićki Kom in just two and a half hours. There are also tracks to summits of Kom Kučki and Kom Ljevorečki and a circular track all around the three summits. This mountain is included in the IPA (Important Plant Areas) of Montenegro for its diverse flora. Recommendation for every mountaineer!
Bjelasica
Gentle and accessible, with its many lakes, meadows, hills, (virgin) forests, sites of mushrooms and national park, mountain Bjelasica is a small paradise for hiking in nature. Bjelasica is available from the mountain pass Trešnjevik from which you can also go to the mountain Komovi. When you take a journey from Trešnjevik towards Bjelasica, it is possible to reach Krivi do, which is the heart of Bjelasica.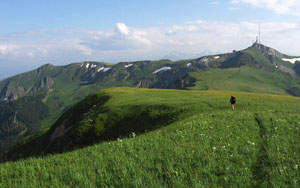 From there, you are able to visit the highest peak of Bjelasica - Crna glava (black head) (2139m), summit Zekova glava, Jezerine ski resort (Ključ peak), Biogradsko lake, Pečić lake, Ursulovačko lake and many other things.
NP Prokletije
The name of this majestic mountain range says enough about its inaccessibility of the terrain. Prokletije are known as the "Southern Alps of Europe." This unusual landscape with its wild beauty awe visitors. Relief is jagged, with numerous hills, ravines, steep slopes, alpine-type river valleys and other natural phenomena. There are also glacial lakes Hridsko, Visitorsko, Ropojansko, Tatarijsko, Bjelajsko, lake on Vezirova brada, pond on Treskavac and others.