Sports complex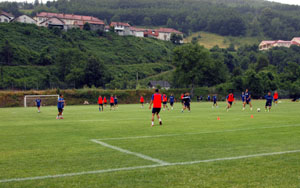 Over time there was a growing need to supplement our tourist offer with sporting events. Our guests can now spend their time recreating being close to the hotel. We have prepared a football field and two tennis courts.
Soccer stadium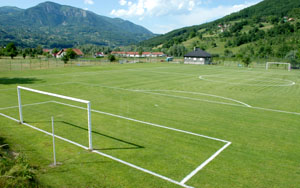 Football stadium is located just 500 meters from the hotel. It is connected to the road network so it is possible for transport to get to the stadium. It is primarily intended for the preparation of professional athletes. It meets FIFA standard minimum dimensions for domestic matches of 90m length and 60m width. It is located just 780m above sea level in the mountain climate zone ideal for sports training. It is important to note that the air quality is very good mainly becouse there are no contaminants in the surroundings.
Tennis court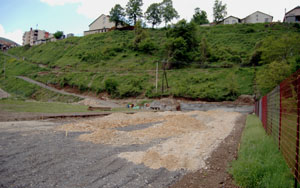 Tennis courts are located next to the stadium. They meet IRF standard in terms of dimensions of 11m wide and 22m long. They are open courts, so playing is possible half a year. The surface of the courts is asphalt.